EXTREME WEATHER
The planetary field captures electrons from the solar wind on field lines grounded in the atmosphere inside the auroral ovals which electrifies sectors of the auroral ovals facing the night sky during geomagnetic storms, more frequently during the solar maximum and near the equinoxes when the ovals are equidistant from the sun.
CANADA WILDFIRES
M-CLASS SOLAR FLARES & CMEs May 3-5 2023
A three-day outburst of M-class solar flares hurled so many CMEs into space scarcely a day went by without one hitting Earth. Stuart Green's magnetometer in Lancashire, England, recorded every impact: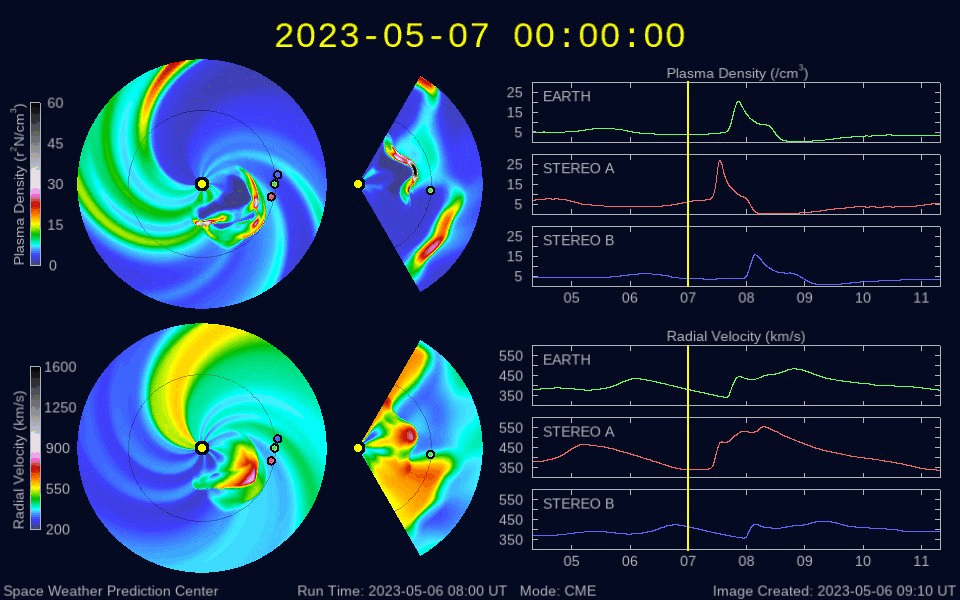 CANADA WILDFIRES May 7, 2023
The first local state of emergency was declared in Alberta and hundreds of blazes have since broken out across the country, with more than 400 active fires as of 7 June. In a normal season, half of Canada's wildfires are started by lightning, but those fires account for more than 85% of wildfire destruction.
TEXAS TORNADOES
G2-CLASS GEOMAGNETIC STORM: June 15, 2023
Last night, Earth lit up like a Christmas tree with auroras at both poles. The reason: A co-rotating interaction region (CIR) hit our planet's magnetic field. "The display in New Zealand was one for the ages," reports Ian Griffin from Hoopers Inlet on the Otago Peninsula:
TORNADO HITS TEXAS June 15, 2023
Hundreds of thousands of residents in Texas, Louisiana and Mississippi remained without power Friday morning following severe weather Thursday afternoon and deadly tornadoes in north Texas. A tornado tore through the Texas Panhandle town of Perryton, killing three people, injuring dozens more and causing widespread damage as another series of fierce storms carved its way through Southern states.
MISSISSIPPI TORNADOES
G3-CLASS GEOMAGNETIC STORM – March 23 2023
The forecast did not call for this. During the early hours of March 23rd, a crack opened in Earth's magnetic field, and stayed open for more than 8 hours. Solar wind poured through the gap to fuel a strong G3-class geomagnetic storm.
MISSISSIPPI TORNADOES March 24 2023
Tornadoes tore through parts of the Deep South on Friday night obliterating dozens of buildings. The agency confirmed early Saturday that 23 people had died, four were missing and dozens were injured.
DOZENS OF TORNADOES
G-CLASS GEOMAGNETIC STORM – March 31 2023
A solar wind stream hit Earth's magnetic field during the early hours of March 31st, sparking a minor G1-class geomagnetic storm. Auroras were sighted across parts of Canada and northern Europe.
DOZENS OF TORNADOES: March 31 2023
WYNNE, ARK. – Residents across a wide swath of the U.S. South and Midwest on Sunday raced to assess the destruction wreaked by possibly dozens of tornadoes and killed at least 26 people as severe weather moved into parts of the Northeast. Earlier storms tore a path through the Arkansas capital, collapsing the roof of a packed concert venue in Illinois.
SOUTH AFRICA FLASH FLOODING
G3-CLASS GEOMAGNETIC STORM – APR 10 2022
Earth's magnetic field was supposed to be quiet on April 10th. Instead a strong (G3-class) geomagnetic storm broke out. At the apex of the disturbance, auroras crossed the Canadian border into multiple northern-tier US states.
RECORD FLOODS IN SOUTH AFRICA: APR 13 2022
The heaviest rains in 60 years pummeled Durban's municipality, eThekwini in Zulu. According to an AFP tally, the storm is the deadliest on record in South Africa. The death toll from devastating floods in and around the South African port city of Durban has risen to 306, the government said Wednesday, after roads and hillsides were washed away as homes collapsed.
UK GALE FORCE WINDS
M-CLASS SOLAR FLARE & UV FLASH: FEB 14 2022
Sunspot AR2941 erupted on Feb. 14th (1731 UT), producing an M1-class solar flare. A brief shortwave radio blackout followed the explosion after X-rays ionized the top of Earth's atmosphere. Ham radio operators and aviators in the Americas may have noticed unusual propagation effects at frequencies below 20 MHz
STORMS DUDLEY & EUNICE HIT THE UK: FEB 16, 2022.
Gale force winds leave thousands without power causing travel chaos as Eunice arrived right on the heels of destructive Storm Dudley. The windstorms struck with deadly force, unloading 100-mph winds in some areas.
CHINA MARATHON DISASTER
FLARES & EXTREME UV FLASH: MAY 22,2021

CHINA ULTRA-MARATHON DISASTER: MAY 22,2021 – Twenty-one people, including two of China's top marathon athletes, died after freezing rain and high winds struck a 62-mile mountain race in northwestern China, local officials said on Sunday.