Tornadoes are rotating vortexes of ionized cloud droplets with rotation powered by magnetic moments, vector forces embedded in the atmosphere which increase angular momentum of vortex ions, which transform angular momentum into magnetic moments and their sum as a dipole magnetic field along the ring current rotation axis with opposite polarity pole attracting vortex ions toward the ground.
Electrified storm fronts charge cloud and ground surfaces with electrons which cycle in the same instant through singularity and induce opposite polarity charge to the planetary field and repelling forces between like charges induced in the same instant on the field lines of twin phase electrons which drape cloud and ground surfaces between cycles.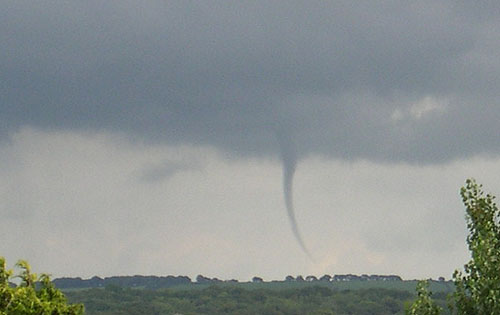 Tornadoes begin as anticlockwise rotating vortexes of ionized droplets emerging from the lower surface of electrified storm cells and spiraling toward the ground draped by the field lines of cloud electrons. When a vortex touches the ground circuits are opened between vortex field lines and field lines draping ground surfaces, inducing a power surge of ground charge up vortex field lines.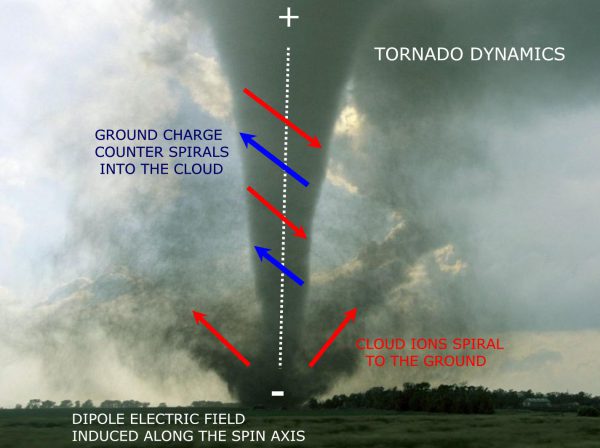 The surge is powered by the repelling force between ground charges and force of the opposite polarity pole of the vortex field attracting ground charges up vortex field lines which induces a voltage potential along the vortex rotation axis attracting ground charges which spiral clockwise up vortex field lines, transforming the kinetic energy of the power surge into magnetic moments which catastrophically increases force of the vortex field attracting cloud ions toward the ground, and transforming the vortex into a tornado.
____________________________________________
TORNADO OUTBREAK MARCH 3 2019
____________________________________________
GEOMAGNETIC STORMS & BRIGHT ARCTIC AURORAS FEB 28-MAR 2, 2019
Earth is inside a fast-moving stream of solar wind flowing from a wide hole in the sun's atmosphere. This is causing intermittent G1-class geomagnetic storms and bright auroras around the Arctic Circle. Our planet is expected to remain inside the stream for another 24 hours, at least, with a 40% chance of additional geomagnetic storms on March 2nd.
400+ TORNADOES FROM ALABAMA TO FLORIDA MAR 3, 2019
Over the course of 6 hours, a total of 41 tornadoes touched down across portions of Alabama, Georgia, Florida, and South Carolina. The strongest of these was an EF4 tornado that devastated rural communities from Beauregard, Alabama through Smiths Station, Alabama to Talbotton, Georgia, killing 23 people and injuring at least 100 others
____________________________________________
TORNADO OUTBREAK OF MAY 2019
____________________________________________
EXPLODING FILAMENTS INDUCE 4 EARTH DIRECTED CMEs MAY 10-11 2019
Three and possibly four CMEs are en route to Earth following a series of explosions near sunspot AR2741. The most potent so far occurred on May 12th when a filament of magnetism surrounding the sunspot became unstable and erupted. The blast zone was more than 220,000 km in diameter:
CLASS G-3 GEOMAGNETIC STORMS AND BRIGHT AURORAS MAY 14 2019
A surprise geomagnetic storm erupted during the early hours of May 14th when a crack opened in Earth's magnetic field. Solar wind poured through the gap, igniting auroras over northern-tier US states. Paul Nelson photographed the display from the shore of Lake Superior near Marquette, Michigan:
200+ TORNADOES DEVASTATE THE US MIDWEST MAY 19-29 2019
The tornado outbreak sequence of May 2019 was a prolonged series of destructive tornadoes and tornado outbreaks affecting the United States over the course of nearly two weeks, producing a total of 392 tornadoes, including 51 significant events (EF2+).
THE LIFEFORCE