Tornadoes are anticlockwise vortexes of ionized cloud droplets which transform the angular momentum of vortex ions into magnetic moments and their sum as a dipole field along the vortex rotation axis attracting vortex ions toward the ground.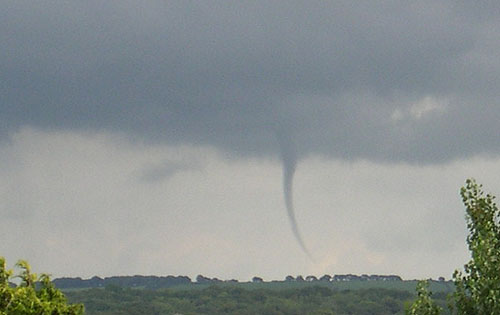 Tornadoes form along electrified storm fronts which charge cloud and ground surfaces with electrons which induce opposite monopole charge to the planetary field in the same instant and repelling forces between like charges on field lines of twin phase electrons draping cloud and ground surfaces between cycles.
When a cloud vortex touches the ground circuits are opened between field lines draping vortex and ground surfaces and the dipole field attracting cloud ions toward the ground induces a voltage potential attracting electrons up vortex field lines into the cloud.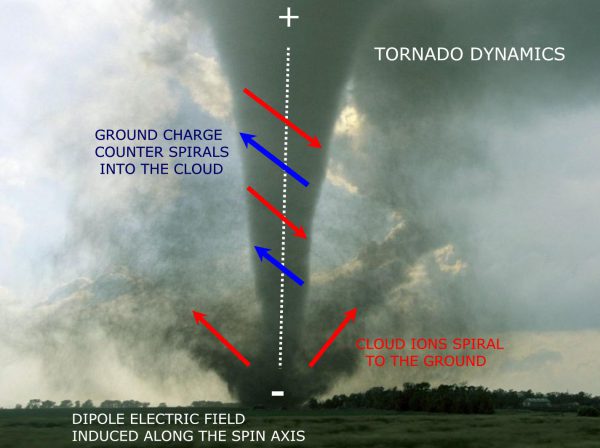 The current of ground charge spirals clockwise up vortex field lines transforming voltage potential into magnetic moments which catastrophically increases the force attracting vortex ions toward the ground and transforming the cloud vortex into a tornado.
____________________________________________
TORNADO OUTBREAK OF MARCH 2019
____________________________________________
GEOMAGNETIC STORMS & BRIGHT ARCTIC AURORAS FEB 28-MAR 2, 2019
400+ TORNADOES FROM ALABAMA TO FLORIDA MAR 3, 2019
____________________________________________
TORNADO OUTBREAK OF MAY 2019
____________________________________________
CME IMPACT AND BRIGHT AURORAS OVER CANADA MAY 10 2019
EXPLODING FILAMENTS INDUCE 4 EARTH DIRECTED CMEs MAY 10-11 2019
CLASS G-3 GEOMAGNETIC STORMS AND BRIGHT AURORAS MAY 14 2019
CME LIKE SHOCK WAVE IMPACTS MAGNETOSPHEREMAY 27 2019
200+ TORNADOES DEVASTATE THE US MIDWEST MAY 19-29 2019