Extreme weather is powered by repelling forces between electrons charging sectors of the auroral ovals after geomagnetic storms which induces an expanding force on the electrified air mass, powering horizontal expansion away from the poles and extreme weather along the jet stream interface between the polar air mass and mid latitude air mass moving from west to east around the equatorial plane.
CLASS G-2 GEOMAGNETIC STORM APRIL 16-17 2015
During the solar maximum frequent geomagnetic storms result in extreme weather along the jet stream interface between expanding electrified polar air masses and mid latitude air mass including lightning storms, flash flooding and tornadoes.
____________________________________________________
TORRENTIAL FLOODING IN WESTERN EUROPE – JULY 25
____________________________________________________
FIRST X CLASS FLARE OF SOLAR CYCLE 25 – JULY 3, 2021
FAR-SIDE FLARE & CME – JULY 7, 2021
2 M-CLASS FLARES CMEs & EXTREME UV FLASHES – JULY 9, 2021
MINOR GEOMAGNETIC STORM AND AURORAS – JULY 9, 2021
A dense and strongly magnetized stream of solar wind enveloped Earth for a few hours on July 14th, unsettling our planet's magnetic field (Kp=4). No auroras were reported, probably because of bright summer sunlight.
DENSE SOLAR WIND SPARKS GEOMAGNETIC UNREST – JULY 14 2021
Torrential rain and flooding has left dozens of people dead and others still missing in western Europe, with Germany bearing the brunt of the worst natural disaster in living memory.
____________________________________________________
EXTREME UV FLASH & CHINA MARATHON DISASTER – MAY 22
____________________________________________________
At noon over the Pacific Ocean on May 22 an extreme UV flash ionized the upper atmosphere and repelling forces between like polarity ions induced an expanding force powering high velocity upper atmosphere winds away from the center of the ionized air mass and caused the china marathon disaster a few hours later.
NASA's Solar Dynamics Observatory recorded seven C-class flares and two M-class flares during a 12-hour period on May 22nd The flares are strobing Earth with pulses of ultraviolet radiation. Waves of ionization rippling through Earth's upper atmosphere are causing intermittent shortwave radio blackouts. The deepest so far occurred over North America on May 22nd (~1715 UT) during an M1.1-class flare:
Twenty-one people, including two of China's top marathon athletes, died after freezing rain and high winds struck a 62-mile mountain race in northwestern China, local officials said on Sunday.
CHINA ULTRA-MARATHON DISASTER MAY 22,2021
_______________________________________________________
WINTER STORM URI HITS TEXAS
_______________________________________________________
Flux rope CME ejected from the sun Feb 4 2021
CRACKS IN EARTH'S MAGNETIC FIELD: Minor cracks are opening in Earth's magnetic field on Feb. 6th as the interplanetary magnetic field near our planet tips south. A solar wind stream due to arrive on Feb. 7th could flow through the gaps, igniting polar auroras..
Jet Stream over North America Feb 5 2021
Class G-1 Geomagnetic storm and circumpolar auroras Feb 6-9 2021
Auroras around the Arctic Circle Feb 13 2021
With millions of homes without power and the coldest temperatures in decades, Texans endured a miserable night in the aftermath of Winter Storm Uri. As temperatures dropped into the single digits, people desperately sought ways to stay warm, sometimes with deadly results.
Winter Storm Uri hits Texas Feb 16 2021
____________________________________________________
MAGNETIC MOMENTS EMBEDDED IN THE ATMOSPHERE
____________________________________________________
The planetary field captures magnetic moments and monopole charge induced by the ionized rotating planetary core which is embedded in the atmosphere and induces a voltage potential around the equatorial plane powering the west to east movement of mid latitude weather systems composed of ionized droplets.
Sunlight ionizes atmospheric atoms and magnetic moments embedded in the atmosphere induces a voltage potential powering the high velocity upper atmosphere jet streams of ionized atoms, along the interface between the ambient polar and mid latitude air mass.
The coreolis force transforms the linear momentum of moving weather systems into angular momentum of rotating weather systems which rotate anticlockwise in the northern hemisphere and clockwise in the southern hemisphere.
Ring currents of like polarity ions to the monopole field transform angular momentum of ring current rotation into magnetic moments and their sum as a dipole field along the ring current rotation axis with like polarity pole to the monopole field along the ring current rotation axis away from the anticlockwise rotating face and opposite polarity pole to the field along the rotation axis away from the clockwise rotating face.
Tornadoes begin when an anticlockwise ring current forms in a rotating storm cell which transforms the angular momentum of ring current rotation into a dipole field with opposite polarity pole to the monopole field attracting ring current ions toward the ground.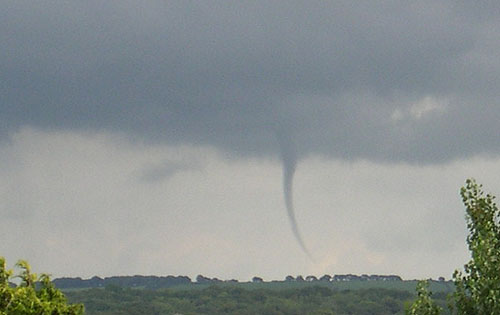 When a cloud vortex touches the ground circuits are opened between field lines draping vortex and ground surfaces inducing a current surge of ground charge up vortex field lines powered by the repelling force between electrons trapped on ground surfaces plus the force of the like polarity pole of the vortex field to the monopole field attracting electrons (with opposite polarity) up vortex field lines.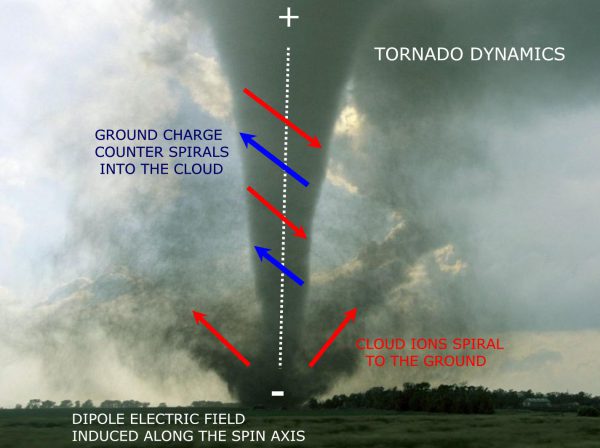 The surge of ground charge spirals up vortex field lines with clockwise spin transforming the voltage potential along the vortex rotation axis into magnetic moments which catastrophically increase the force of the vortex field attracting ionized droplets toward the ground, and transforming the vortex into a tornado.
____________________________________________
TORNADO OUTBREAK OF MARCH 2019
____________________________________________
GEOMAGNETIC STORMS & BRIGHT ARCTIC AURORAS FEB 28-MAR 2, 2019
Over the course of 6 hours, a total of 41 tornadoes touched down across portions of Alabama, Georgia, Florida, and South Carolina. The strongest of these was an EF4 tornado that devastated rural communities from Beauregard, Alabama through Smiths Station, Alabama to Talbotton, Georgia, killing 23 people and injuring at least 100 others
400+ TORNADOES FROM ALABAMA TO FLORIDA MAR 3, 2019
____________________________________________
TORNADO OUTBREAK OF MAY 2019
____________________________________________
CME IMPACT AND BRIGHT AURORAS OVER CANADA MAY 10 2019
EXPLODING FILAMENTS INDUCE 4 EARTH DIRECTED CMEs MAY 10-11 2019
CLASS G-3 GEOMAGNETIC STORMS AND BRIGHT AURORAS MAY 14 2019
CME LIKE SHOCK WAVE IMPACTS MAGNETOSPHEREMAY 27 2019
The tornado outbreak sequence of May 2019 was a prolonged series of destructive tornadoes and tornado outbreaks affecting the United States over the course of nearly two weeks, producing a total of 392 tornadoes, including 51 significant events (EF2+).
200+ TORNADOES DEVASTATE THE US MIDWEST MAY 19-29 2019
____________________________________________
LIGHTNING
____________________________________________
are ionized droplets held apart by the repelling force between like charges
Storm clouds along electrified storm trapped on clouds by electrons
and induce a compressing force increasing cloud density, which float close to the ground repels ground charge from rainshadow surfaces inducing a voltage potential between cloud and ground attracting cloud electrons to rainshadow surfaces.
When the repelling force between cloud electrons plus the attractive force between cloud electrons exceeds the dielectric resistance of the atmosphere below the storm cell leaders develop ionizing a conductive pathway through the atmosphere and when leaders connect the voltage potential induces a cloud to ground lightning strike.
The primary strike depletes cloud charge, neutralizes the rainshadow effect and reversing the voltage potential which powers a return strike of ground charge into the cloud, along the pathway ionized by the primary strike, and carries the return strike through the cloud into the upper atmosphere.
Return strike electrons cycle in the same instant on the field lines of twin phase electrons which spiral towards the ionosphere between cycles with clockwise in tubes of their merged field lines inducing magnetic moments and their sum as a dipole field along the current tube rotation axis with like polarity pole to the monopole planetary field attracting return strike electrons toward the ionosphere.
When return strike current tubes cross into the ionosphere current sheet into the ionosphere the current tubes trap like polarity ions to the monopole field which are attracted by the opposite polarity pole to the monopole field of the dipole field induced by return strike electrons powering high velocity currents of trapped ions toward the ground
Current tube ions transform the attractive force of the dipole field into kinetic energy and frictional forces which transform kinetic energy into photons, illuminating current tubes, appearing above lightning storms as sprites.